We focus our expertise on everything from providing the best solution for deep drilling to any issues raised by our customers, no matter how complex they are. Passing through and blind holes with diameters from 3 to 350mm and depths up to 10 meters on almost any type of material and geometry.
With the availability of equipment between 1 and 4 heads, we are able to manage any size batch/order. Also, our facilities are equipped with suitable handling means for efficient management of our customers 'materials in terms of loading, unloading and storage.
With all of these technical capabilities, combined with our professional, committed and experienced team, we have become a vital link in the value chain of many machining processes for a variety of industries.
OUR SERVICE INCLUDES THE PREPARATION OF PIECES
We prepare industrial parts for drilling holes and eccentric shafts both greater and less to diameter 30. We adjust each process to the diameter measurement, providing optimal preparation of the parts before drilling.
READ MORE ABOUT THE PREPARATION OF PIECES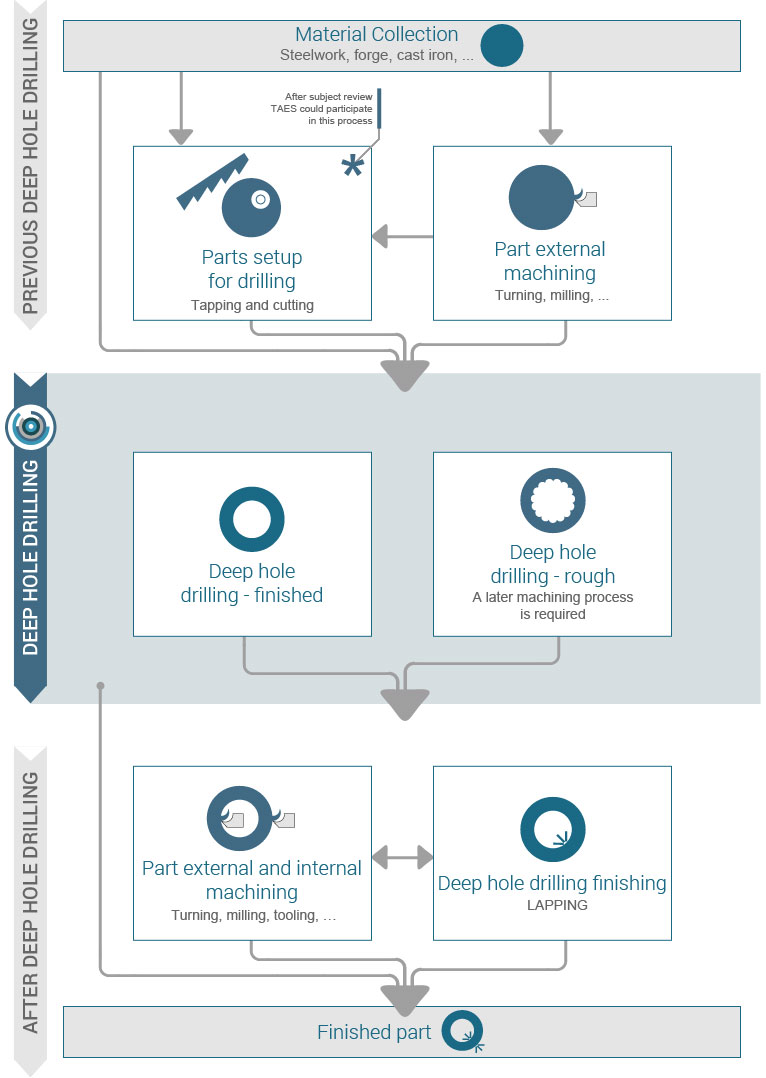 WHY SHOULD YOU TRUST OUR SERVICE??



We are the nationwide leader in precision deep drilling and our customers can certainly vouch for that.




TAES, SL has been providing knowledge and experience in deep drill machining since 1971.




We have a professional, trained and experienced team that is able to manage our clients' projects in the most effective way.




By having more than 25 deep drilling machines, our large production capacity enables us to manage even the tightest of deadlines requested by our customers.




Our facilities of 4.000m2 and our handling means which provide us a big logistics capacity for loading, unloading and storage materials supplied by our customers.




We have a range of tools for deep drilling in diameters ranging from 3 to 350 mm in diameter, which allows us to give a solvent solution to different projects our client require.